General observations:
For computers with:
CPU < 1 GHz only Nexus or WinDVB-S in hard mode should be used. Computer can be used to perform other tasks.
There is not a difference in performance between Nexus and WinDVB-S 1.6 card. The only difference is Nexus comes with remote and WinDVB-S has s-video connector on board.
1 GHz < CPU < 2 GHz soft card can be used, but computer should be dedicated to watching/recording TV only.
On non dedicated computer each additional activity, like opening or closing programs causes received data packets loss/momentary picture freeze.
For prices click
Asus A7V333, Athlon 2000+, 512 MB RAM, NVIDIA GeForce4 MX 440 with AGP8X, default codecs,
Windows 2000 Pro

WinDVB-S 1.5 (or Nexus)
SkyStar 2
(soft mode only)
VisionPlus 1020
(soft mode only)
Hard mode
Soft mode
ProgDVB
Yes
Yes
Yes
Yes
MyTheatre
Yes
Yes
Yes
Yes
TSReader
No
No
No
Yes
CPU usage:
ProgDVB
3-5 %
30-40%
30-40%
50-60%
MT
4-7%
60-70%
70-80%
80-90%
Switching channels
< 1 sec
5 secs
5 secs
7 secs
FTA
very good
very good
very good
very good
regular signal on ProgDVB
very good
good
rare freeze/quick recovery
occasional freeze on some channels / no recovery
regular signal on MyTheatre
very good
very good
very good
very good
PPV on ProgDVB
very good
occasional freeze on some channels
occasional freeze on some channels
occasional freeze on all PPV channels
PPV on MyTheatre
very good
very good
very good
very good
HDTV on ProgDVB
-----
freeze after few seconds
no video
no video
Signal strength causing video freeze/loss
< 7%
< 10%
< 15-20%
< 20-30%

Asus A7V266, Athlon 1300, 512 MB RAM, Vodoo, Cyberlink codecs,
Windows XP
Virtual Remote is a missing link in ProgDVB evolution.
It is not a free software.
After finding Virtual Remote suitable user is requested to donate $20 to ProgDVB development or
directly to Virtual Remote's author
Downloads:
Reliability

United States

•••

best

•••

best

•••

best

Files for Virtual Remote:

•••

best

•••

best
Virtual Remote's major features are:
New in the latest version 4.0:


*** 44 hours guide ***

*** 2 TV Guide instances ***
- watch one provider's TV Guide online and
- another provider's offline

Real time TV Guide:
- change channels from within the guide (double click on channel No or channel Name)
- favourites list
- selection by categories
- selection by languages
- search titles
- alert: pop-up window reminds about incoming prior selected event
- one click adding event to the Scheduler
- auto refresh every 30 minutes

Time shift

TV Guide broadcasted over LAN:
- select 'LAN' option and in the client app insert server's IP or server's computer name

TV Guide offline :
- for softcard users (SS1 softmode, SS2, TwinHan) for uninterrupt viewing

Save TVGuide to file
- use 'Save TV Guide on exit' option to browse it offline

A/B switch:
- switch between 2 different satellite providers (when using Diseqc switches)
- or use the switch to turn your equipment on/off

Customizable HotKeys:
- the advantage of using VR Hotkeys is that ProgDVB window does not need to have a focus.
- very useful when using TV window mode.

Time synchronizing:
- automatically synchronizes computer clock using NTP (Network/Internet Time Protocol).
- never miss your show.

User friendly Scheduler.

Scheduled recordings will automatically activate ProgDVB.

Multiple recordings can be saved into different hard drives.

Sleep function.

Wake-up with maximum volume.

Alert: pop-up window reminds about pre-selected event.

Customizable display's font size:
-watch TV Guide on the television screen.
Special options:
Screenshots (TV Guide):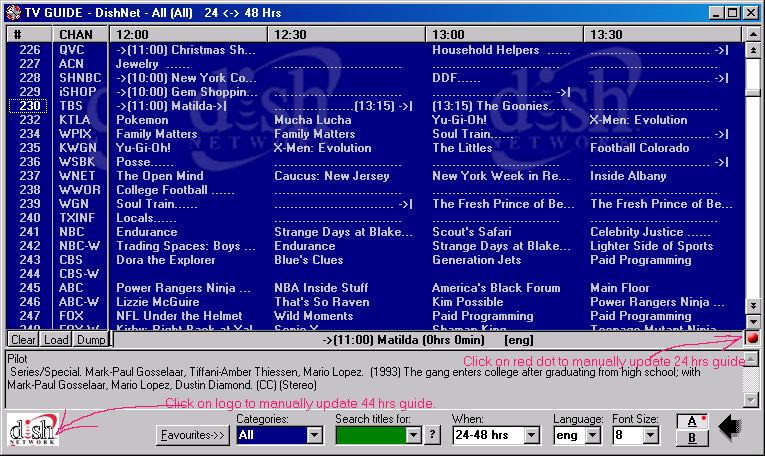 Screenshots (General):
Note:
There is not need of having automatic A/B switch to take the full advantage of dual Power On. Let say you watch 2 different signal providers and each time you swap dish cable and change ProgDVB settings.
Instead of doing that you can:
A. Keep ProgDVB in 2 different folders: make sure that \Modules subdirectories in both folders contain the same modules.
B. In Virtual Remote setup fill in the General tab required info.
C. Depending on you actual signal feed Power On -->A or Power On -->B as illustrated above.
1. 'Clear' button: removes all programming from the current window.
2. 'Load' button:
- use it to load (from previously saved file) and display TV Guide in offline mode (single mouse click)
-use it to display raw data dump file. (mouse right click on 'Load' button)
3. 'Dump' button:
- use it to save TV Guide in plain text file (single mouse click )
- use it to create 1.5 MB raw data (pid12) dump file. (mouse right click on 'Dump' button)
4. Red light: click on it to manually refresh displayed data.
5. 'A/B' switch: it toggles selected ComPort output:
DB 9 ---> pin 7 (RTS) and 5 (GND)
DB 25 ---> pin 4 (RTS) and 7 (GND)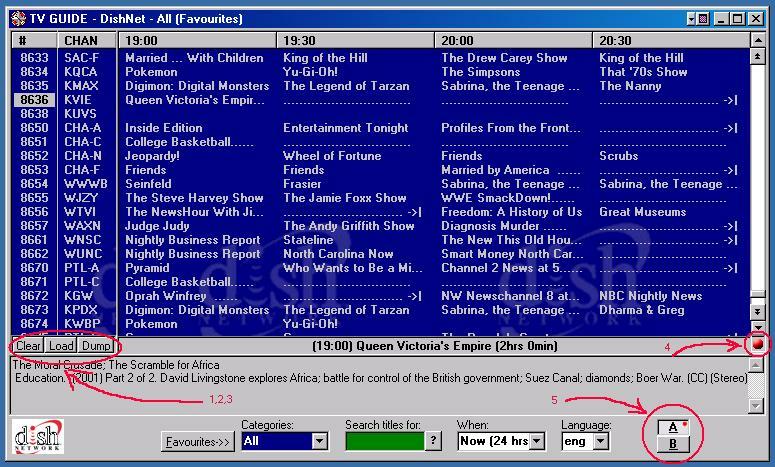 DiSEqC and A/B switch setup:
Please post your comments and suggestions in forum:
http://forums.dvbnetwork.com/viewforum.php?f=12